German Shepherds are the most widely adopted dogs in the world. They are highly intelligent, smart, very loyal, easily trained, and very handsome dogs. Here are a few reasons why German Shepherds are one of the most popular dog breeds in the world.
They are calm, easily trained, highly intelligent, and extremely loyal to their owners.
German Shepherds are known to socialize pretty easily, and with more and more positive reinforcement, they are easily trained.
Since they have a lot of energy, they are great if you are an active person as well.
So just imagine if you mix such a dog like this with some other popular dog breeds, then it is going to be just great. Now let's get to know a few German Shepherd Mix that would be great as pets, just as good as a black German Shepherd or a White German Shepherd.
1. Shepadoodle (German Shepherd Poodle Mix)
The mix of German Shepherds and Poodles is one of the best German Shepherd poodle mix that you can own as a pet. They are smart and loyal, and thanks to the poodle, they are hypoallergenic as well.
The Shepadoodle are calmer dogs with lively personalities. So this curly, shaggy, and wiry doggo will be a great pet for you.
2. Golden Shepherd (German Shepherd Golden Retriever Mix)
Since you already know that there are a total of three types of Golden Retrievers, you can have different types of Golden Shepherds for yourself. Each outcome of the Golden Shepherd will be different depending on their fur color.
But regardless of the color of their fur, a Golden Shepherd is a sweet and good-natured dog in terms of their personality. They are technically happy dogs with a lot of energy, and are highly devoted to their family.
3. Gerberian Shesky (German Shepherd Husky Mix)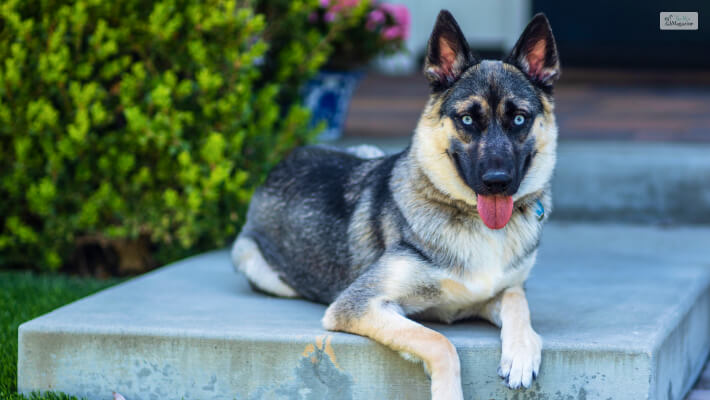 If you want chaos in a doggy form then the dog you are looking for is a German shepherd husky mix called a Gerberian Shesky. The breed is extra vocal, highly energetic, very loyal, yet quite stubborn.
But when you have a Gerberian Shesky at home not a single moment of your day will be boring, they will entertain you all the time.
4. Sheprador (German Shepherd Labrador Retriever Mix)
What breed can be more lovable than a Sheprador, which is a Labrador Retriever and German Shepherd mix. A Sheprador is a very smart dog, and once they are motivated to work, they will make sure to get that work done.
These Shepradors are highly trainable and along with their good natured personality, and easy going lifestyle, they are a great companion for you.
5. Australian German Shepherd (German Shepherd Australian Shepherd Mix)
If you mix both these Shepherd mixes together then you are gonna get a one hell of an intelligent dog breed. These dogs are both quick footed and quite affectionate towards their owners.
Since they are working dogs you can easily depend on an Australian German Shepherd to look after your livestock.
6. Shollie (German Shepherd Collie Mix)
Don't these German Shephard mix looks the cutest ever! The German Shepherd Collie mix or in short the Shollie is totally Instagram worthy.
The Shollies need regular grooming and are a bit more high maintenance than other mixes. These dogs are very attentive and are very faithful towards their owners. They are very obediante dogs and are always very eager to learn new things.
7. Corman Shepherd (German Shepherd Corgi Mix)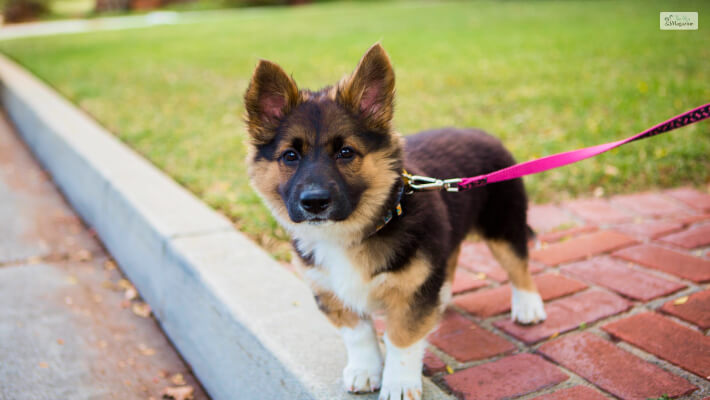 If you are looking for the cutest little German Shepherd mix doog for yourself, then look no further than the Corman Shepherd.
It is a German Shepherd Corgi Mix. These dogs just loves to play, all day if they had to, so they would be best if you have kids at home. But which Corgi are you going to choose, a Pembroke Welsh or a Cardigan Welsh.
8. Shepweiller (German Shepherd Rottweiller Mix)
If you are looking for the ultimate guard dog, then the Shepweiller is the dog breed for you. They are very protective over their family, and are an excellent guard dog.
These are muscular dogs with great instincts and reacts instantly. So training is required at a young age. With constant positive reinforcement, you should train these Shepweillers.
9. The Shug (German Shepherd Pug Mix)
It is possible that you don't want a large or medium sized dogs, then you should definitely look into the Shug, which is a German Shepherd pug mix. These highly energetic furballs are very joyful and adorable.
No matter what type of a family you have, a Shug will fit in perfectly with your family. And since they are smart dogs, they are good as guard dogs as well.
10. Shepkita (German Shepherd Akita Mix)
For the ones who are looking for a fiercely loyal and a German Shepherd mix, then the German Shepherd Akita Mix is the dog for you.
These dogs are not afraid of anything and will always stand by you always. They are quiet, fluffy coated and highly independent dog, but they appreciate all your love.
Wrapping Up!
Well that was all from my side, all these German Shepherd mix are going to be great pets for you. So without any hesitation you can choose the one whom you liked the most. And if you liked this article then don't forget to give this article a like and also comment down below which German Shepherd mix you would love to have.
Read Also: