After you have completed all the adoption procedures and you are now deciding on your boy dog names or girl dog names. This is the most difficult period that you need to think about, as a name should represent the personality of the dog perfectly and suits her as well.
So if you are facing any difficulty in coming up with a name for your little fluff ball, then I have a bunch of wonderful girl dog names that you should give a try.
These names are gorgeous and unique in nature as well, so why don't you just check this list out once and then decide on a name?
So if you wanna check the lists out, then keep on scrolling through this article to know more about all the amazing girl dog names.
25 Most Popular Girl Dog Names
These 25 girl dog names are the most popular names that you can come up with for your baby girl, so go through the list once and then decide on what you want.
Luna
Bella
Lucy
Daisy
Lily
Lola
Zoe
Bailey
Sadie
Coco
Stella
Maggie
Molly
Penny
Rosie
Nala
Roxy
Chloe
Ruby
Sophie
Willow
Ellie
Piper
Gracie
Millie
20 Cute Girl Dog Names
Now if you are looking for cute girl dog names, then I have a particular list for that as well, so if you are looking for something cute, then this is the list for you.
Apple
Angel
Bam bam
Dixie
Cherry
Goldie
Izzy
Kiki
Josie
Lottie
Lulu
Nessie
Nala
Peaches
Pancakes
Rosie
Queenie
Winnie
Tillie
Zuzu
25 Most Unique Female Dog Names
It is possible that you are looking for unique girl dog names, then I have here a whole list of great names that are totally unique and really creative, so take a look at these names.
Butterscotch
Boston
Bess
Elli
Juliette
Kola
Kloe
Mimosa
Margie
Marlo
Nutella
Nakita
Quinta
Ray
Raine
Rori
Rye
Shady
Sakari
Shandy
Shenzi
Twitter
Tucker
Zayda
Wiggles
15 Meaningful Female Dog Names
When you are choosing a name for your girl dog then or boy dog names, you can think of a name that has a beautiful meaning behind it, that way, you are giving your baby girl a beautiful name.
Astra – Star
Athena – Crafty and Wise
Amity – Friendship
Darcy – Swoon-worthy
Elra – Snow
Freya – Goddess of beauty, love, death, and war
Femi – Love
Juniper – Cleansing and protection
Korra – Brave one and Warrior
Koa – Goddess Persephone
Myka – An Israeli Princess
Manu – Bird
Sage – Wise and Healthy
Yuki – Blessing
Zahra – Flower
20 Female Dog Names Inspired By Famous People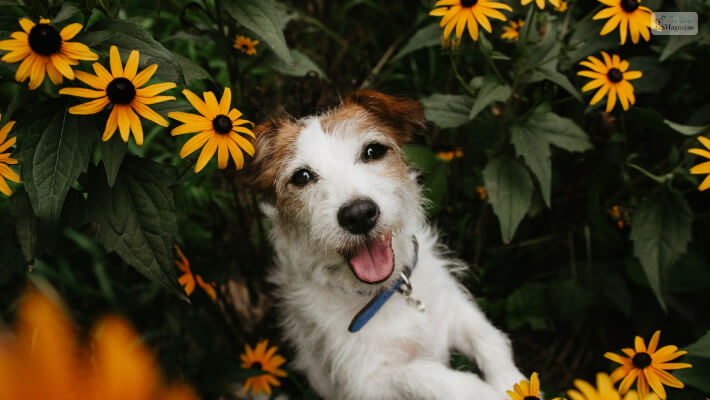 Many people name their girl dog names after famous people, so if you wanna do that, then I have a list for that as well, so you should definitely check the list out for yourself.
Adele (Singer)
Cardi (B)
Carly (Rae Jepsen)
Camilla (Queen Consort)
Chrissy (Tiegan)
Doja (Cat)
Gwen (Stefanie)
Jada (Smith)
Hailey (Bieber)
Jaime (Lannister or Pressly)
Kylie (Jenner)
Kate (Middleton)
Marilyn (Monroe)
Naomi (Osaka)
Nelly (Furtado)
Pam (The Office)
Simone (Biles)
Taylor (Swift)
Uma (Thurman)
Wrapping Up!
Now that I have given you an amazing list of wonderful girl dog names for your little pooch, you should definitely browse through the list to pick the perfect name for your fur baby. So if you liked this article, surely don't forget to give this article a like and comment down below.
Read Also: