Are you all set for summer? Roaming around, going to the beach, getting that beautiful tan, but are your pup ready as well? After a long winter, is your pup ready to deal with a hot summer with all that thick fur? I don't think so.
Maybe it's time to give the little pooch a much needed haircut, Goldendoodle haircuts will the one that you should go for. So if you don't know what these goldendoodle haircuts are, then you should definitely check out our list down below.
1. Kennel Cut
Since it's almost summertime, it's time that you cut your furry baby's thick long fur shorter, so they don't get too hot. Goldendoodles usually have long, thick fur, so it is important that you give them a much-needed haircut.
And the best haircut for that is the kennel cut since it shaves most of the thick curly fur of your pooch during the summer. But it surely will cut the trademark sign of a Goldendoodle, which is the curly coat.
2. Teddy Bear Cut
This is the most common and popular type of Goldendoodle haircuts that you can give your puppy. The reason why this is the most popular is because, after the haircut, your puppy is going to look unbelievably cute, and you might wanna cuddle them all day.
You can customize this look by adding a bouffant or a poofy look. Also, other than trimming the face clean, you can leave a playful and unique look to your pup.
3. Poodle Cut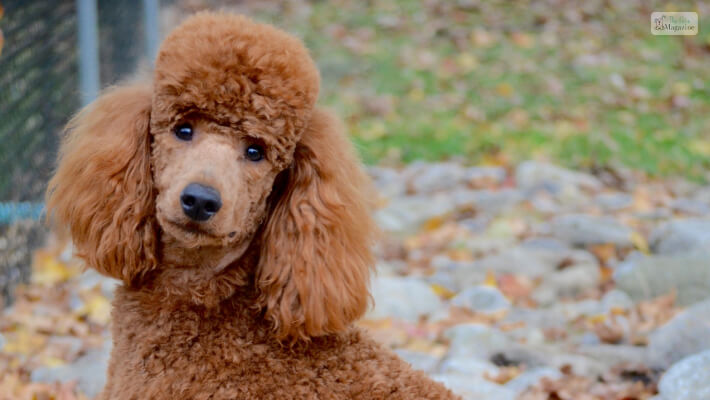 One of the most common types of Goldendoodle haircuts is the poodle cut. Since these dogs are half poodle, so this is a very obvious or common look for them.
With a poodle cut, your pooch normally gets a clean face, back, belly, and the sides as well. But their ears, tail, legs, and top of the head remain thicker but not bushier.
4. Lamb Cut
Another very popular type of mini Goldendoodle haircut is the lamb cut, though the cut was initially famous with Poodles, it later got adopted by Goldie pooch owners as well.
With this haircut, your pooch will look a lot like a very cuddy baby lamb. This is an adventurous haircut, but you can always customize this look according to your choice.
5. Lion Cut
It is possible that if you want your goldie pooch to stand apart from every other dog in the neighborhood, then the best haircut for your dog is the lion cut.
The cut is really bizarre and weird at the same time, but in the end, your pup will look like a lion for sure, even if he doesn't roar. To create this look, a shaggy-looking mane of the lion needs to be created first, with the signature pom tail.
In order to make the mane, extend the chest hair of your dog and tamper it so that it pops. Then clean the face and make the mane on the topknot.
6. Mohawk Cut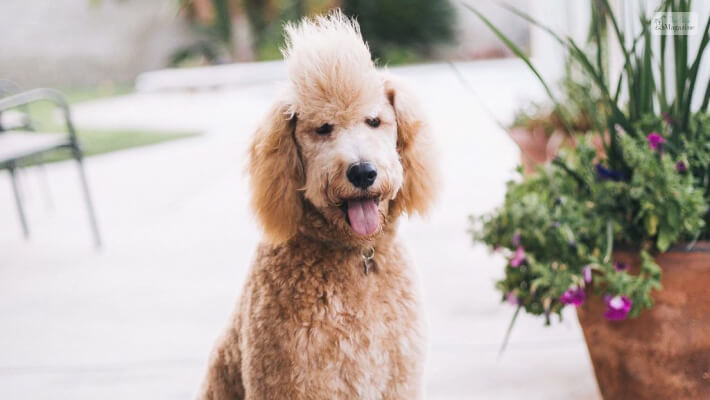 If you are serious about giving your dog the coolest haircut ever, then give them cool looking mohawk. These Goldendoodle haircuts are very popular and give them a personality and attitude.
Suppose you wanna style the mohawk even further, then you can even add a little color to the mohawk to make it look even more beautiful and cool.
7. Dino Cut
This is definitely the weirder one when it comes to giving your dog great Goldendoodle haircuts, but is dino cut really the one? It totally depends on your choice, but the style is definitely weird.
If your pooch has a thick coat of fur on its back, then ask the groomer to give them a kennel cut with that blockier tufts running all the way down their back.
8. Full Shave
This is absolutely not a hairstyle but a total shaving of any hair on your dog's body. During summer, dogs with long and thick fur faces a lot of problems when it comes to regulating their body temperature.
With dirt build-up, the fur could get matted and even clumpy and lumpy, so it's better to cut them before that happens. And it is the best thing to do during the summer months.
9. Flag Tail Cut
This is yet another haircut that gives your dog a lot of personality and fashion cred. With this haircut, your dog's tail is gonna look like a flag and will also make the coat a lot curlier and shinier.
The body haircut will look a lot like that of a teddy bear cut, of course leaving the tail. After the look is complete, you need to brush the tail regularly so it doesn't get matted.
10. Clean Face Cut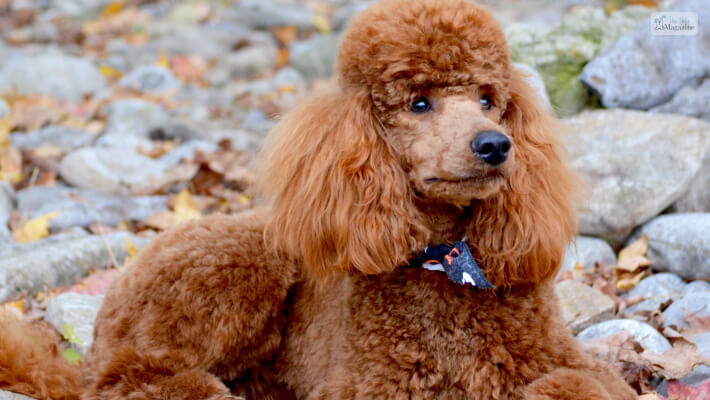 This is one of the easiest haircuts, as not much is done with the clean-face haircut. With this look, you don't have to cut your dog's coat, only clean their face and cut the hair on the face short.
Since goldie pooches have long facial hair, it gets messy if you don't cut them at every grooming session. So to make them look clean, it is important to clean the facial hair as well.
11. Bell-Bottom Cut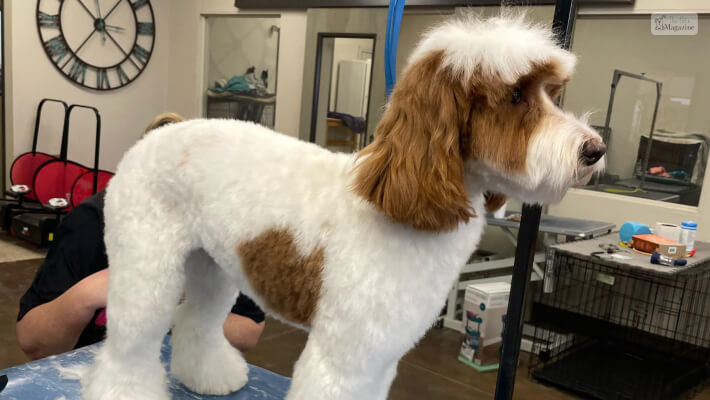 Are you are a fan of bell-bottom jeans, then the best way for you to match your pooch is if you take them to the groomer and get a bell-bottom haircut for them.
The whole look is going to be very fashionable and stylish for both of you. To make this look happen, the groomer will cut the top of the leg hair short and the bottom long.
Then round cut the end of the foot to make it look even so that it will seem like your pooch is wearing bell bottoms.
12. Round Face Cut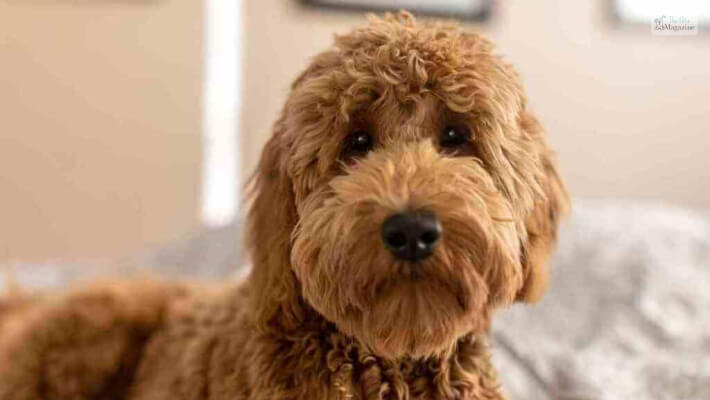 Goldendoodles have very charming facials, so the best way to emphasize that is by enhancing their facial structure and face.
The round face cut looks beautiful since it enhances their face structure as well. This way, your goldie pooch will become even cuter than before, like that's even possible.
13. Medium Lenght Cut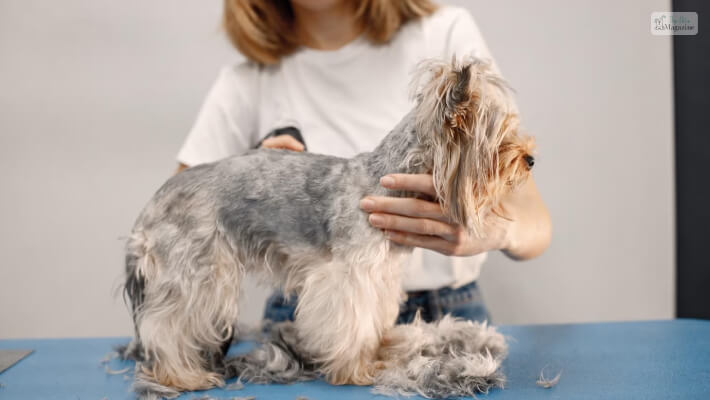 Although this is not a standard Goldendoodle haircut, it has been going on for a few years now. This is the haircut you go for when you are not sure whether to let your dog's hair grow out or cut it really short.
This is a great way of cutting the hair short but not too short that you are not able to style it in any other way later if you want to.
14. Pom Poms
If suppose your Goldendoodle looks more like purebred poodle then cut, you can go for the Pom Pom haircut. For this haircut, the body fur of your dog should be shorter in length, like the length of a kennel cut.
The groomer will then add beautiful fluffy round balls on their feet with long hair and on the tip of their tail as well.
15. Top knot Hairstyle
With this hairstyle, you have to focus mainly on the top of your Goldendoodle's top of the head. You need to trim the fur there neatly and make sure the top stays round, and then you need to blend it well with their body and neck.
If you think you don't have the patience to do it yourself, then it's best that you take your dog to a groomer.
16. Puppy Cut: 
For a majority of people, having a puppy haircut basically refers to cutting your Goldendoodle's hair to the same length and keeping your doggo's hair clean, short, and free from mats.
This is also a type of haircut that you can attempt to do on your own. Plus, this haircut specifically makes your pet look like a little puppy.
Also, it's one of those haircuts that is simply one of those initial cuts that your dog gets and is a combination of basic trim, blow-dry, and brush, getting your dog used to the whole grooming experience.
17.  High Knot:
So, do you love sporting a high knot? Is it one of your go-to hairstyles?
You can match your Goldendoodle's hairstyle with your ponytail. In order to create this hairstyle, you can trim your pet's hair around their face a little shorter while leaving the fluffy part on top to appear as if your doggo has a top knot. 
Also, you can easily add clips in different hues or hairbands to style your dog to look better.
Wrapping Up!
Now that you are given all the information about goldendoodle haircuts, then study the list properly and take in the looks of each haircut.
If you think that you have all the information you need to know about cute goldendoodle haircuts. Then you should definitely give this article a like and comment down below which hairstyle you are thinking of giving to your pooch.