There are many things in the life of an individual which he/she is highly contended with. Of course, you can count on your sporting equipment, electronic gadgets, imported cars, gems and jewels, and dogs for most beautiful dog breeds.
No, we are not trying to recreate another Pope- ian masterpiece:
"puffs powders patches bibles billet-doux…." You might wonder if "dogs" is an anticlimactic expression. But you get it wrong. Dogs are more precious compared to gems and jewels.
After all, they are the watchdogs of your material possession. Dogs are indeed an element of a show-off! This is the reason people crave the most beautiful dog breeds. They have them depending on their requirements. You can have dogs of different sizes, tall and muscular; short and circular; hairy and fairy; blue-eyed and brown fried (color)-the choice is endless.
The article is a storehouse for the prettiest dog breeds, or you can call it, the most beautiful dog breeds in the world. So let's get started.
The Most Beautiful Dog Breeds
Many of you have dogs, and you want them frisking here and there around your home. You definitely want them prancing around in your garden. The way they ape our behavior- is phenomenal indeed! So if you have cute dogs in your home, it is indeed something to show off. This section abounds with the discussion of the most beautiful dog breeds in the world. So let's get started.
1. Siberian Husky
Who can not but stop to gaze at the beautiful blue-eyed Siberian husky? They are always dancing and prancing, and you will find yourself engaged in little games all day long.
The beautiful dogs are loyal, outgoing, and mischievous. Don't try to outsmart them by looking at their blue ocean-calm and sedate eyes. One more underestimation, and they come to their action. Because of their nature, they easily come under the list of prettiest dog breeds. Therefore, this becomes an obvious choice.
2. Golden Retriever
You have often talked to some soft-spoken people. They are a gentle lot. But have you talked about soft-mouthed dogs? Yes, the popular dog breeds in the United States are known to retrieve birds undamaged.
Thus, the dogs don't bite too hard. But don't take them easy-peasy; they have great personalities. They are quite intelligent, and you can train them easily. Whatever commands you give them, they will listen to them.
3. Labrador Retrievers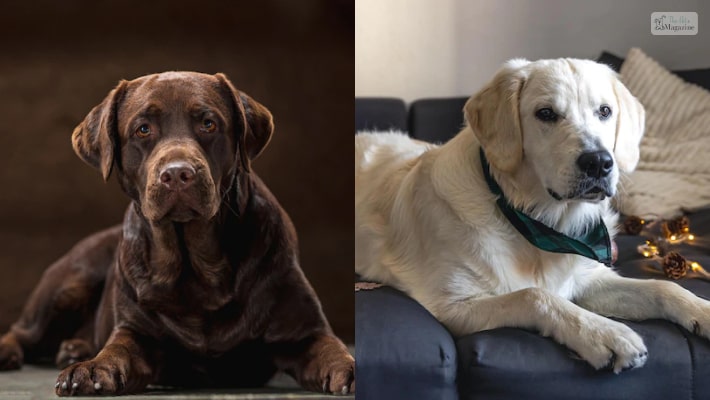 Labrador also counts itself as among the most beautiful dog breeds. Again this one is an American breed, and they are playful in nature. So if you are searching here and there for some dogs of balanced nature, this one is definitely one of them.
These dogs are very comfortable, especially with your children and other pets, and they don't get angry at little instances. All you need is to provide them with some kind of exercise. The breed usually lives for around 12 years.
4. Pomeranian
If you want the look and feel of fluffy puppies, you can go for a pomeranian. This one is one of the most popular toy breeds. The first thing that will impress you is good looks. The second best thing that will steal one's gaze is cuteness. They, indeed, are cute pets…great for you to show off. Your darling…their envy!
You can huddle and cuddle them the way you like. They are like cotton balls, soft and quiet. So if beautiful dogs are your utmost passion and long-nourished dream, definitely go for Pomeranian. Again, if you are interested in all about puppies, consider Pomeranian. So, get one for your home.
5. Chow Chow
Many of you search for fluffy puppies. If you are one of them, you can definitely go for Chow Chow. Don't go by the name Chow Chow…they do have a strong bow-wow (sound).
If you are looking for some dogs that can serve your beauty quotient as well as guard your home, you can definitely go for them. They are one of the most beautiful dogs you have come after, that's for sure.
6. Doberman Pinscher
When it comes to dogs, you can definitely go for beauties, but without some element of bestiality, it's no good. Your dog must possess a harmonious balance between beauty as well as strength.
Doberman pinscher falls under that very category. However, this also needs to be said that they are intimidating, and this fear element makes them one of the most revered dogs. So try to go for a balance between cute pets and strong ones.
7. Saluki
If you want it bulky, you have the Chow Chow, but if you want it thin, lean, and elegant, go for Saluki. For their elegant presence, they fall under the list of most beautiful dog breeds. They have a beautiful presence, and they are intelligent. This is the reason the craze for owning Saliki is rising with time. They are lanky and muscular. With long legs, they can run at a jaw-dropping speed of 69 km/h! That's some speed.
8. German Shepherd
If you want fluffy puppies- the prettiest dog breeds, you better stay away from them. But if you like something really rock-hard, rude, and crude – a german shepherd is irreplaceable. This one is the priceless possession of ruff and tuff guys. They were actually used for sheep herding. You can make them do a variety of jobs.
They are moderately active, but you need to train them. Of course, you also need some daily exercise with your doggy. But, on the other hand, if they are socialized properly, there is nothing better than to take our word. Beauty does not manifest only through looks; remember these lines.
9. Poodle
This very breed is highly popular, and they are getting more and more popular with time. So Poodles will definitely be a good choice for you. Their curly hair adds uniqueness to their appearance.
You can cuddle them, but at the same time, you need to exercise them because they need some kind of activity. You need to pass hours of exercise with them. They love water. If you have a tiny pond behind your backyard, you can leave them at ease. The water activity will act as exercise. If you don't exercise, they will be easily bored. They adjust themselves well with their family. Therefore Poodle can be a good option for you.
10. Irish Setter
We have kept the most beautiful dog at the end of our list. They are unmatchable in terms of look and color. You could get them both in chestnut and red. However, they are lanky hairy dogs, and you will have to comb them at regular intervals.
One thing to caution you. If you keep smaller objects or animals, keep them beside them when they are young. Otherwise, they might look at the object as a prey animal. You need to provide them with some activity because they are an active race. It is a bit difficult to train. But other than this, you can have them.
Closing The Discussion
Dogs definitely are priceless possessions, and they need a good amount of focus and attention. However, different dogs do have different natures. Therefore you need to study their behavior.
Consult some experts if you want to keep a dog in your sweet home. They are different in nature, and it's better that you select them according to your requirements.
Read More About