More and more people and teenagers are creating new accounts on Facebook, Instagram, and Twitter. Their use has skyrocketed ever since their launch. And the Pop cat, the funny meme, is all over the social media pages.
With 2020 being the year where the Covid pandemic took center stage and locked out almost every outdoor activity for a few months, meme creators became overnight sensations on social media. This caused a massive surge in the creation of memes to relieve the tension and boredom in our hearts.
However, one cat unknowingly became a social media sensation overnight when memes were made of him. Soon, it got turned into a casual clicking video game too, where almost everyone who has played it enjoyed it thoroughly.
This story is about the rise of Oatmeal, now popularly known as the Pop-Cat meme.
What Is Pop Cat Meme?
Pop cat is the name given to memes creators and every teenager on social media who had absolutely nothing productive to do with their free time. The real name of the cat is Oatmeal, a Cheshire cat owned by a Twitter user named Xavier BFB.
The meme in question that made this cat meme so famous has been seen by almost every social media user on the internet. The meme has two pictures inside it. The first picture on the top shows a cute cat who seems to be somewhat smiling.
The second picture of the meme is a highly edited and warped picture, which shows the cat laughing out loud and making an O-shaped laugh. Even though I am writing this in words and it sounds pretty boring, see the image below to cry out loud in laughter. 
How It All Started ?
The story of Oatmeal becoming revered as the pop cat. Has now become legendary in the community of meme creators. It is a funny yet well-respected story that meme creators will remember and even pass on to their children and grandchildren.
It all started with Xavier, the owner of Oatmeal, posting a video of his cute cat chirping at a bird on a private Discord server. Soon, his friends made memes out of that video, where a significant GIF got way more popular than it should have been.
The GIF had two images in it. One showed Oatmeal, sitting normally with his mouth closed. The other image that followed it showed oatmeal with his mouth wide open, shaped like an O. This was done using a photo editor.
Who Created The Pop Cat Meme?
The original video of the oatmeal was posted when he was chirping at a bug. Later on, the meme was developed by the computer science students of Sheffield University. You can see three students' involvement in a more prominent way. Joshua O'Sullivan, Freddy Heppell, and Edward Hollis
Soon, this GIF spread from server to server, and soon it got posted on Twitter by many users, mostly to be used as a meme.
Over time, the meme of oatmeal spread like wildfire, and soon, everyone started calling the meme the Pop-cat meme. 
Read more: 5 Best Breeds Of Brown Cats To Know About In 2022
How It Spread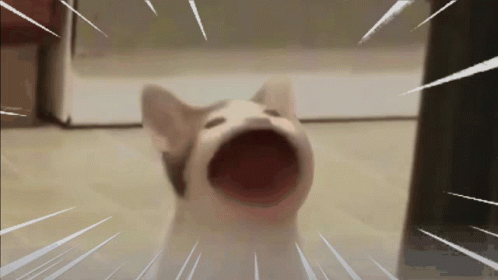 Over time, more and more users started using this meme to create memes of their own since its popularity made it a staple amongst meme creators. Soon it became a basis for more memes to be created, as its popularity made it a staple meme template. 
However, its main climb to the top of the meme ladder boards came when many famous Instagram influencers used the pop cat GIF to make music videos. These videos played a song in the background, along with the GIF being played in a loop. 
This made these pop cats look like opening and closing their mouth and appeared to be singing the song played in the background. This format became so famous that the Pop-cat even received a new name – the wide-mouth singing cat. Soon, pop cat funk-pop keychains became popular after their name spread. 
The Pop Cat Game
After the memes became pretty popular in social media, especially on Twitter and Instagram, a pop cat game was created to let Oatmeal leave a legacy of his own behind.
A game was created by three Sheffield University students – Fredy Heppell, Joshua O'Sullivan, and Edward Halls on the internet. This game and its website are named pop cat. Click, which is a casual but extremely funny clicking game.
In this game, all you had to do was click on the image of a pop cat sitting normally. After you click on the image several times, the pop cats will laugh out loud with the shape of his mouth being his signature O-shaped smile. 
However, the main intention of creating this game was different. What started as a prank game soon became one of the most competitive games globally. What many later figured out was that every time you click on the pop cats meme, the name of your country gets recorded in the game's server. 
Soon, a race started between Asian nations to compete for the top position to become the leading nation to play the pop cat game. Here, Thailand initially came out at the top because the pop cats meme wares highly popular there. However, the current leading country is Hong Kong, followed closely by Thailand and then Taiwan. 
Know more about : 10 orange cat breeds you'll fall in love with in 2022
Frequently Asked Questions:
1. What Cat Is Pop Cat?
Pop cat's real name is Oatmeal, who is a Cheshire cat.
2. Is Pop-Cat A Real Cat?
Yes, the pop cat is a real cat. And after featuring the real-life videos of the Pop-cat, the meme is becoming more popular. During the video making, Oatmeal was chirping. So the viewers can see his small mouth and its openings.
3. Why Is Pop Cat So Popular?
The pop-cat meme was made popular because of the memes and Instagram stories that circulated on social media, along with the pop cat clicking game.
4. How Is Pop Cat?
The pop cat game is still popular now, with Taiwan being number one right now. for playing this game.

Conclusion
Pop-cat memes and videos have become a sensation globally after memes, reels, and videos of the cat became some of the most shared on social media. The pop cats meme soon became a template that was used by the so-called "memers" globally. 
After its so-called memes became a hit globally, it soon developed a fandom that gave rise to a browser-based clocking game simply called Pop-Cat. Depending on the number of clicks that led to the pop cat "popping" on screen, countries vied for the top spot, with Hong Kong leading the race currently.
More Related Topics…