The Silver Sable German Shepherd is one of the most recognizable German Shepherd breeds. The sable color is the most dominant in the German Shepherd family. In fact, it is the color that closely resembles the founding member of the German Shepherd family.
Although Silver Sable German Shepherds might look different than what we are habituated to seeing as German shepherds, they share the same characteristics. They are known to be loyal to their master.
These dogs are bred to be used as working dogs and have gone to have a career in the military, police, and other service dogs.
Today, we will talk about everything about the Silver Sable German Shepherd and trace back their history to find the first Sable German Shepherd.
What Is A Silver Sable German Shepherd?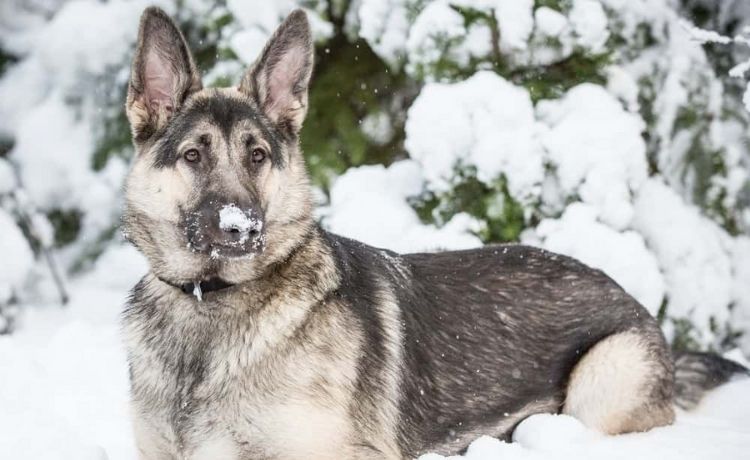 A Silver Sable German Shepherd is not always a dog with shimmers. That's just ridiculous. Silver refers to the ott-tan color.
When we talk about Silver Sable German Shepherd, the color of the German Shepherd can vary from cream color to off-white. A light white color appears when we see it alongside the black tan.
Origin Of Silver Sable German Shepherd
Before we can start talking with Silver German Shepherd, you must know that a Silver Sable German Shepherd is the same as any other German Shepherd. That means there is no difference in their origin, and the color of their coat won't affect their character, health, and fitness.
The history of the German Shepherd starts with a cavalry officer named Max Von Stephanitz when he decided to buy a herding dog from Germany. He spent 35 years of his life doing research and cross-breeding the dog. His vision was to design a new mixed breed with a calm temperament and serve as a loyal pet.
Experts believe that the silver color of the Sable German Shepherd is due to the gene mutation over time.
Characteristics Of Silver Sable German Shepherd
The Silver Sable German Shepherd is not a mixed breed; it results from a gene mutation from the ordinal General Shepherd. That means these dogs carry the same characteristics and temperament.
A Silver Sable German Shepherd is rarer than the other German Shepherd color, and hence, they are more expensive than puppies. The litter size of these pups will be around 6-9. For a German Shepherd, you can expect to pay $300-800, but for a Silver Sable German Shepherd, you might have to pay $800-$1500.
1. Appearance
As we have already mentioned, the only difference you will find between a regular German Shepherd and a Silver Sable German Shepherd is the color of their coat. They are a large breed of dogs. The male will weigh almost 90 pounds and stand up to 26 inches tall. On the other hand, female dogs are slightly smaller and weigh around 75 pounds, standing up to 24 inches tall.
These dogs have a dome-shaped head with a square muzzle. They have erect ears and long necks. They are a strong breed and are often said that their ancestors must have been wolves.
2. Coat
German Shepherds usually have two-layer coats. The outer coat is dense and protects the inner layer. In comparison, the inner layer is soft, which helps them keep warm.
These are known for their shed. Hence, if you are allergic to such things, Silver Sable German Shepherd might not be the right pet for you.
3. Color
The sable color in the Silver German Shepherd is that almost every hair of the dog will have a black tip, even the silver fur.
Silver Sable German Shepherd Lifespan
The lifespan of a Silver Sable German Shepherd is 10 to 14 years on average. However, if you take good care of them, they might survive for an additional 2-3 years. To get them that extra life, you need to ensure that they are on a proper diet and follow an exercise routine.
Silver Sable German Shepherd Temperament
Silver German Shepherds have a good reputation for being intelligent, loyal, and enthusiastic about their work and exercise. They are one of the largest and most courageous dogs.
A Silver Sable German Shepherd is friendly and can create bonds quickly. But do not expect them to befriend every person they meet. They are good around the children and take a guardian role for them when no adults are around.
Make sure to create boundaries for Shepherd and family members. If your Shepherd doesn't want to interact with others, give them the space and respect their decision.
Health Concerns
Unlike the other breed, the coat color of the Silver Sable German Shepherd has no relation to its health. So, to find out the health concerns of a Sable German Shepherd, we can see the whole German Shepherd family as a whole.
Unfortunately, a Silver German Shepherd is prone to a range of health conditions. Therefore, you must work closely with a veteran to find out the medical condition of your German Shepherd.
Here are a few common health problems that your Silver Sable German Shepherd might face:
Degenerative Myelopathy

: Degenerative Myelopathy is a progressive neurological disease that affects the spinal cord. It generally happens in the German Shepherd family. Hence, it can be due to hereditary factors, but the exact reason is yet to be proven.

Bloat

: Bloat is the medical name for gastric dilation in dogs. This usually happens when the dog is on an unbalanced diet. Bloats swell the insides of the dogs and put pressure on the organs. 

Epilepsy

: Epilepsy is one of the major health concerns in Silver Sable German Shepherd. This health issue is generally related to heredity. 

Panosteitis

: Panosteitis is a condition where the Silver Sable German Shepherd experiences abnormal growth of the bones. This usually happens in large breed dogs, and the symptoms can be found in the dogs usually 4-14 months.

Malabsorption

: This condition is especially exclusive to the German Shepherd breed. It is a non-curable but treatable disorder. In this condition in which the pancreas does not secrete enough digestive enzymes to absorb nutrients. This affects the life expectancy of the dog.
How To Care For A Silver Sable German Shepherd?
If you are a Silver Sable German Shepherd owner, you must be proactive with what you do. German Shepherd dogs are quite active by nature. They need at least 60 minutes of daily exercise. Apart from this, there is diet and grooming that you need to look after.
1. Food & Diet
Like any other dog, German Shepherds need a lot of nutrients. So while you are picking out food for your Silver German Shepherd, you need to go for the foods full of nutrients. 
Because German Shepherds are active and agile dogs, they need a lot of calories in their diet to keep them energized, strong and healthy. So for both puppies and adults, protein is a major nutrient.
Growing German Shepherd needs at least 22% of the protein in the diet, while an adult needs 18%.
2. Exercise
German Shepherds are an active breed. They are the breed that is often used in the military, police force, or as guards. Hence, it is not surprising that they have high exercise requirements.
You need to ensure that your Silver German Shepherd exercises at least 60 minutes to 90 minutes daily. If you keep them away from daily exercise, they might develop destructive behaviors due to boredom.
3. Cleaning & Grooming
All the German Shepherds have double coats. The outer layers are thick and protect the inner coat. In comparison, the inner coat is soft and keeps the dog warm. This is why they do not need to bathe regularly – once every three months will be enough.
Furthermore, you must ensure to clean their teeth to avoid any teeth and gum problems. If this sounds too much hassle for you, just give them chewing toys; this will help you keep their teeth clean.
FAQs (Frequently Asked Questions)
Read Also: