Dogs are not just a pet; they are family members. Being a dog owner myself, I cannot treat them anything less than my brother, sister, or children. With all my experiences as a pet owner, I can assure you one thing that the love you show them is returned in ten folds. So, it is your responsibility that you cherished them by offering them the best dog dresses.
You wear dresses every day, but you leave your dog undresses. Why is that? If you consider them as your family members, you need to fulfill their needs as well. There are many occasions when not only you but your dogs need to wear dresses as well. Dog dresses give your dog a special presence in the special events.
Best Dog Dresses In 2021
The dog dresses have infinite possibilities. There is a dog dress for every pet owner. It does not matter what size your dog is, which breed your dog is or which gender it belongs to.
Here I have handpicked some of the best dog dresses of 2021.
1. Fairy Unicorn
Fairy Unicorn is at the top of the list solely because it is one of the most loved dog dresses in 2021. This dress has one of the best designs that give your dog a playful look. This dress uses pastel colors that give a shiny look to the cartoon based unicorn on the dress. This dress's highlighted features will be its bow ribbon waist ribbon that attracts most of the attention.
2. Tutu Dress For Puppies
Tutu dog dresses are one of the most affordable clothes for dogs. These dresses come with more elegant designs and are made to fit perfectly for small dogs and puppies. If you plan to carry your dog to a wedding, you can make your dog wear this dress (Provided the wedding is not a theme wedding).
3. Patgoal Denim Dog Dresses
Patgoal denim is one of the best picks if you have a medium or a large size dog. It has a playful design that goes perfectly with the naughty dogs. This dog dress mimics the teenage style and comes with a bright underskirt with a bear character on the back.
4. Pink Sweet
If you have small size dogs, then pink is one of the best colors that you can make them wear. The pink sweet dog dress is designed for the same. It has a bright pink color that stands out among most of the dog dresses. If you go through the design, you will see that it comes with an interwoven knit texture with a ribbon at the waistline.
5. Elegant Dog Dresses
Whenever we think about dog dresses, the very first picture that comes in our mind is a colorful dress with shining frills and designs. But here I have something new for you. This elegant dog dress comes in a solid color and has a simplistic design. Not to mention, it even has a ribbon at the waistline that adds something extra to its elegance.
6. Cheerleader Pet Costumes
Are you attending your child's school sports meet? Then here is a dress that will go perfectly with this occasion. The cheerleader dog dress comes with frills at the end of the legs that act like frills used by the cheerleaders. The costume is made with keeping every convenience in mind. The skirts are also short of making sure that your dog can go to the bathroom without removing the dress.
7. White Bride Dog Dresses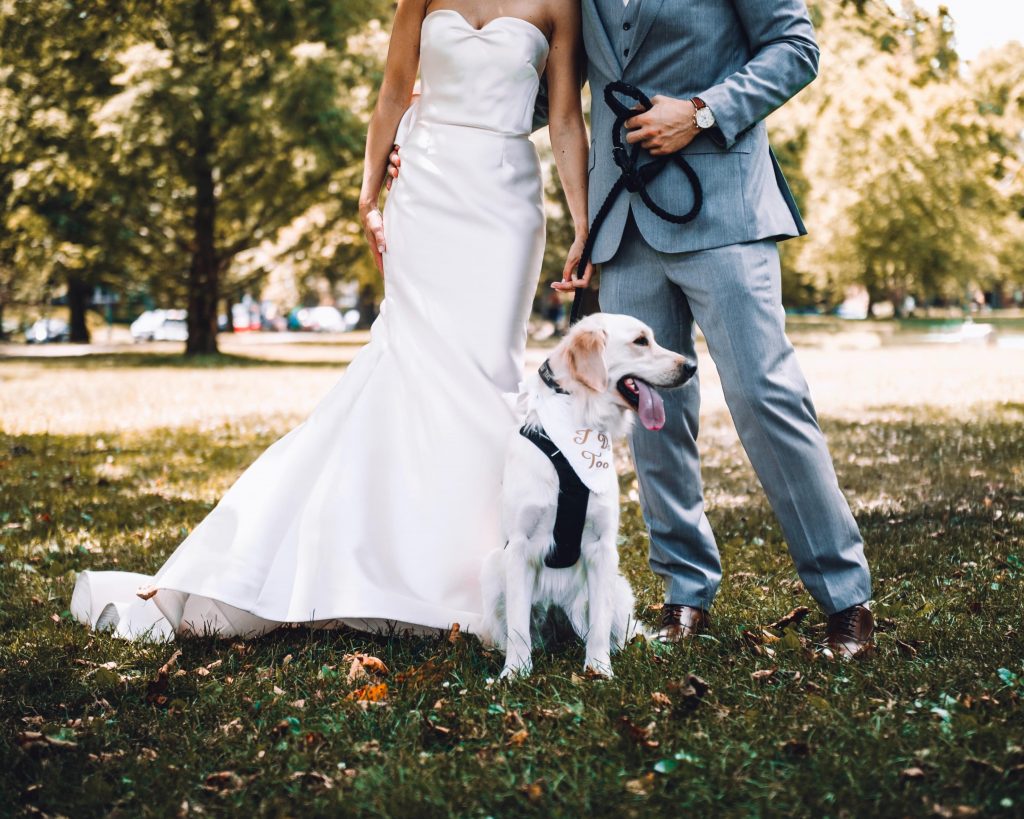 What! Is your dog getting married? If this is true, then you have to look at this dog dress. This is one of the best dog dresses for the dogs that are getting married this winter. This dress's material comes with a soft and reflective material that can easily get the guest's attention. The best part is that it is available in all sizes.
8. Wonder Woman Dog Dress
Who doesn't want to see their dogs in their favorite superhero costumes? If you are a wonder woman fan, then Rubie's dog dresses have something for you. This wonder woman dog dress comes with a matching headpiece that completes the whole transformation. The fabric of the dress is quite comfortable. Hence you can rest easy on that. 
9. Christmas Dog Dresses
Winter is just at the next corner. When there is winter, the very first trying that comes to our mind is Christmas eve. It is a day when family members get together to enjoy and celebrate the birth of Jesus. A special day needs special apparel, don't you think so. In that case, a Christmas dog dress will get the job done. Make your pet wear this lovely dress and enjoy the Awe feeling.
10. Fifties Girl Dog Dress 
Modern-day creation for dog dresses is following the fifties trends. This trend has gone to new heights after Rubie's pink fifties dog dress hit the market. This dress gives off a retro fifties vibe with a new refreshing look. Even it comes with a headpiece to complete the whole apparel set. This dog dress comes in every size. Hence, you do not have to worry about not getting the right size for your dog.
Features to consider
When you are out there looking for the best dog dresses, there are features that you need to consider for a comfortable dress for your dog. These features are the indicators that authenticate the quality of the material used in making dog dresses.
Here are the factors that you need to consider while choosing the best dog dresses.
Quality of the fabric:

Most brands prefer to use the same material used in making human dresses. This helps the brands to create comfortable dresses for your dog.
Fashionable:

Like human dresses, dog dresses come in different styles. What kind of style will look good on your dog, and what kind of style will be comfortable for your dog will be the key factor in buying a dog dress.
Size:

Dog dresses can grow in size. Hence, it is important to know your dog's size to come up with the best style that fits perfectly.
Uses:

The same way you have different clothing types for different uses, dog dresses also have the same features. Obviously, you are not going to buy winter clothing for your dog in the summer.
Frequently Asked Question
Buying dog dresses can be tricky at times as it has a different design altogether. It needs a learning process before you can start buying dog dresses for your dogs. The learning curve is complicated enough for people to get confused about dog dress selection.
Here are some of the questions that are frequently asked in the pet's owner community.
Is It Necessary To Dress Up Your Dogs?
Well, it is not necessary to dress up your dog, but many dog owners like to see their lovely pet in colorful dresses. A simple dog dress for the pet can be exciting for them as it is not a common practice. However, while doing so, you need to be careful about your dog preferences. There are times that dogs do not like to wear big dresses or any other accessories. Hence, be aware of your dog attitude while dressing them and make them wear dog dresses accordingly.
How Can We Make Our Dogs Like Dog Dresses?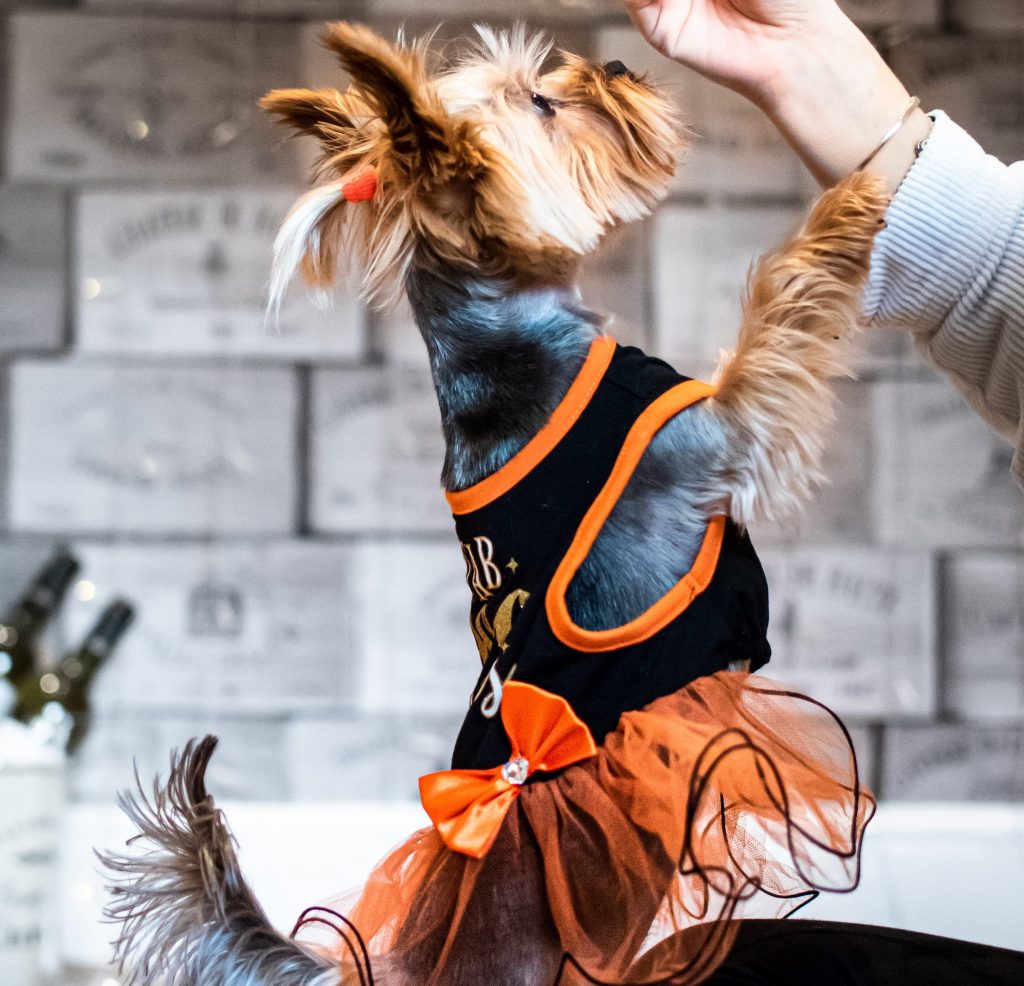 The best way to approach this matter is that you let your dog get in the habit of wearing dog clothes. You can start with simple dog dresses that fit them perfectly. Once they get habituated with the dressing, you can try different designs. The process needs to be as slow as possible. If you approach them every day with a new design, you might get rejected.
What Is The Best Way To Put On Dog Dresses?
The opening and closing of the dog dresses come with the same system as the shirts we wear. The enclosure of the dog dresses has either buttons or velcro. You just have to open the button and slide it over your dog (just like a shirt), help them put their hands inside the dog dresses, and close the enclosure.
Conclusion
When you value something in your life, you must show your affection to make them know that they are important. By making your dogs wear their favorite dog dresses, you show them that they are a part of the family, and this practice shows how much affection you have for your dogs. 
I hope that I was able to help you with what you were looking for. If there is anything you want to know more about the dog dresses, feel free to ask me.
Read Also: