Dogs are nothing more than children. So for them as well, toy time is the best time. So how can you know which toys your dog will like? All the dogs are different and have their likes and dislikes. Some dogs like stuffed dog rope toys, while some like to play with their owners.
Hence, as owners, it is our responsibility to take good care of our pets and provide them with the toys they like. So how do you do that? One thing is true for the dogs that they love a good game of tug of war or fetching the throwing things.
This is the reason we have gone through the several dog rope toys and have enumerated below.
Best Dog Rope Toys In 2021
Dog ropes are the best way to keep your dog busy while you are not paying attention to them. Here are some of the dog rope toys that you might like to give your dog.
1. Mammoth Flossy Chew Dog Rope
Looking for a dog rope that can be used by dogs of any size. This rope toy comes with several knots. It is made up of high-quality material, which means your dog can enjoy it for hours and hours before it wears out. The rope fibers are specially designed for flossing out all the dirt from your puppy's teeth.
2. Natural Pet Company Dog Rope
What will be the best other than a high quality and durable dog rope toy for your pet to play with? Natural pet company dog rope is a designed rope toy used for tug of war. Each toy is a great fit for medium and large size dogs.
3. Booda 2 Knot Dog Rope Bone
If you are looking for a dog rope toy under a fixed budget, Booda 2 Knot dog rope will get the job done. This toy comes with two knots and looks similar to a bone. If your dog likes to chew things, then this can be one of the best choices.
4. Satispet Large Dog Rope
Satispet dog rope toy is made for dogs of all sizes. It is made up of extremely sturdy material and is perfectly suitable for tug of war. This dog rope comes with a comfortable look for the owner to have a tight grip while playing tug of war with their pet. It is made up of 100% cotton and hence comp[letely safe for your dog.
5. Mammoth Tire Biter
Mammoth tire biter is an all in one dog rope toy that can be used for both tugs-of-war and fetch games. The design is unique as if a rubber tire is tied with a rope. The material is strong and durable. Hence, your dog can enjoy longer gaming sessions.
6. Nero Ball Classic
Nero Ball is one of the most loved rope toys for dog owners. The popularity of these dog rope toys is that even the police K-9 use it to train their dogs. This dog rope toy comes with a ball attached to a rope. The ball is made up of 100% rubber, and the rope is made up of nylon thread. 
7. Bundle Dog Ropes
Are your dogs aggressive in nature? If so, then these dog rope toys can be the best way to release their pent up energy. These toys come with extra long ropes for the bid dogs who love to play games of tug of war. The fabric quality is perfect for chewing. Hence, you can expect them to last longer compared to the other dog ropes.
8. Otterly Pets Puppy Dog
Otterly Pets Dog Ropes is solely designed for medium to large size dogs. These dog ropes come with different sets of knots. It is made up of natural fibers; hence it is not harmful to your dog in any way. On the contrary, these toys help to cleanse your puppy's teeth.
9. Pacific Pup Dog rope
Pacific pup dog ropes offer varieties of rope toys and help rescue the pacific pup in California from their profit. They specialize in making different types of cotton rope toys. These toys help your dogs keep them themselves, buddy, and help floss out dirt from their mouth.
10. Achivy Cotton Dog Rope
If your dog is fond of other animals and wants that animal to play with them, which is practically not possible. Then you can certainly give them Archivy Cotton dog rope toys. These toys are made up of cotton rope and are shaped into different animals. It also helps to remove the floss from the dog's teeth.
How To Choose The Best Dog Rope Toys?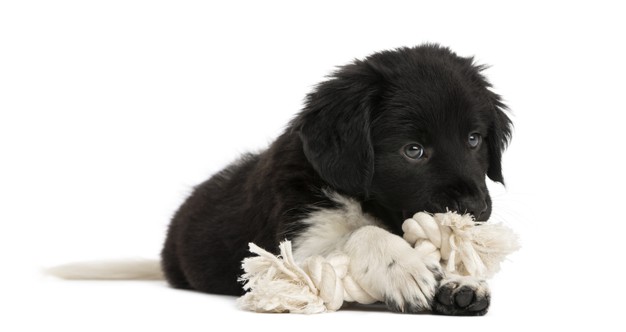 You need to understand that your pet is a dog, and he will chew no matter what you give them. It is just part of being a dog. Whether your dog is a puppy or a grown dog, they need to chew. Puppies chew things to explore new things while a grown-up dog chews to build their jaw muscles.
When chewing is important for dogs, it is your responsibility to choose the best dog rope toys. Here are what you need to consider while choosing the right dog rope toys for your pet.
Right Size
It is very important to understand the right size of the dog rope toys. You cannot buy a dog rope that is larger than that of your pet. Your pet might get tangled up. The same thing is true if you give a big dog a small rope that they might swallow. Maintaining the right size of the toys is essential for your pet to enjoy.
Durability
Here we are not talking about the durability of the rope toys. Rather, durability depends on the dog. There have been cases where a small dog has ripped out the threads of the dog rope toys.
Knowing your dog and what kind of material will last for your dog is the best way to approach this matter. You also need to consider the material of the toy, whether it is harmful or not.
Style
Every dog has different preferences. Some like to play tug of war, while some fetch fanatics. Hence, getting the toy your dog likes will have some trial and error practices. The benefit of the dog rope toys is that they come in varieties and surely have something your dog might like.
Why Should Buy A Dog Rope?
We all know how energy-filled children do. Just remove your sight from them for a second, and you will find things out of place. The same things can be said for the dogs as well. Remove your sight for a couple of minutes, and you will find scratched walla sn and torn off shoes.
Every dog needs some way to entertain himself as well as release their pent up energy. While facing circumstances like these, dog rope toys can help your dog to release their energy positively.
There is no limitation for which dog can use the dog rope toys. Dogs of every size can use dog rope toys. Dog ropes are the best way to keep your pet dogs occupied while you have no time to spare for them.
Most dog ropes are made up of tough materials that last longer than any other dog toys. This also helps them to clean their teeth.
Frequently Asked Question
When you are a pet owner, there is always something new to learn as a dog owner. Taking care of a dog is equivalent to taking care of a child. You might face circumstances when you have these questions in your mind.
Are Rope Toys Good For The Dogs?
Yes, of course, dog rope toys are good for your pet. However, you have to make sure that they are used properly. Any toy that is being digested by your dog can cause some serious stomach problems. However, if you keep an eye on them while playing with the dog rope toys, it is perfectly safe for them. The dog rope toys can help to clean their mouth by smoothly flossing their teeth.
How Tug Of War Helps The dogs?
Tug of war is one of the best games that help the dog with their routine exercise. It helps the dog to expend all the stored energy in a positive way. It also helps to deepen the bond between you and your dog.
Is Tug Of War Bad For Dogs Teeth?
Well, in a sense, it is not harmful to the dogs. However, if your dog is having teeth problems, it is not advisable to play tug of war with your dogs. Tug of war is a fun game for the dogs, but you can certainly not play with the puppies who are still in their growth phase with immature teeth.
But for a full-grown dog with healthy teeth, tug of war is the best exercise. A tug of war is a full-body workout for the dogs and helps to boost their healthy lifestyle.
Are Rope Balls More Durable?
Durability is more dependent on your dog rather than the toy you are giving them. Though dog rope balls are more durable than regular balls, if your dog has strong teeth, it can virtually destroy anything you throw at them. However, indeed, dog rope toys last longer than other materials.
Dog Rope: Final Thoughts
There are so many dog rope toys that could have been made to the list, but we cannot just add all of them. So we have just made a list of the top 10 dog rope toys that can help your dog pass their time while you are not paying attention.
Is your dog an inhaler, destroyer, or a nibbler? We would love to know more about your pets and what kind of toys you have used to entertain them. You can even suggest any other types of toys for the dogs. We are sure that the readers will find your suggestion informative.
Read Also: