Unlike cats and dogs or even birds or hamsters, tarantulas are not cuddly animals and are not as affectionate. They are at an intermediate level as pets, so you need to be at least a semi-professional keeper to own one. Keeping tarantulas is not for the light-hearted.
Today we are talking about the Cobalt Blue Tarantulas, who attracts onlooker with their bright blue coloring, but they are not for everyone. If keeping tarantulas is your hobby, then you need to learn the basics about how to take care of one.
There are some specific health needs that a Blue Cobalt Tarantula needs to know; keep on scrolling.
Overview
| | |
| --- | --- |
| Experience Level | Intermediate |
| Scientific Name | Cyriopagopus Lividus |
| Family | Theraphosidae |
| Other Names | Haplopelma Lividus(formerly known as) |
| Lifespan | Male: 10-20 years, Females: 20-25 years |
| Adult Size | About 5 inches |
| Average Prive Range | About $50 to $100 each spider |
Cobalt Blue Tarantula Care
The Cobalt blue tarantulas got their name by the color of their legs, which are of bright blue. Compared to their legs, their carapaces and bodies are quite dull with a greyish blue color to them.
When you look at the blue color closely, they have a metallic, shimmery quality and effect to it. This coloration reflects off the hairs making them appear white or rather yellowish.
Habitat
Cobalt blue tarantulas are primarily found in Myanmar but can also be seen sound Thailand, Laos, Cambodia, Vietnam, and rarely in Singapore.
These tarantulas are obligate burrowers, digging holes deep inside the ground. These tarantulas are native to Southeast Asian forests. The only time that they leave the burrows is to find food.
Diet
Cobalt blue tarantulas are great at being predators. Being the swiftest and quick among most tarantulas, they are great at hunting. With swift actions, they catch prey even in tight corners. They inject their prey with poison, then drag their bodies to their lair and eat it alive.
These cobalt blue tarantulas are known as greedy when it comes to food. They eat from amphibians to insects such as cockroaches, mice, crickets even spiders. The reason why they are known as greedy is that they eat a lot of food to grow faster.
Make sure that you don't feed your tarantula crickets and cockroaches you catch around your yard, as they might contain parasites.
Lifespan And Health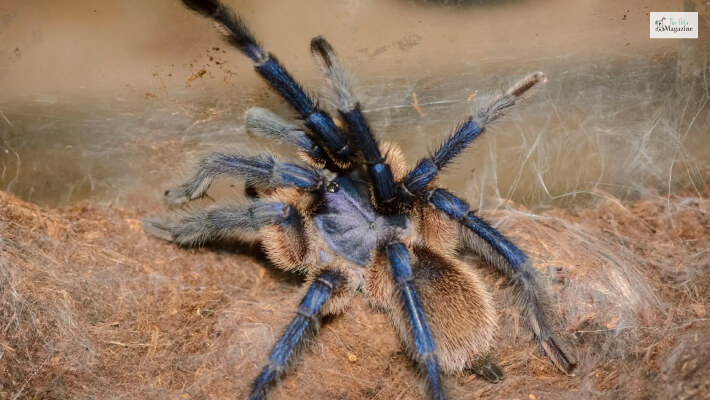 Lifespan of female cobalt blue tarantulas are more than their male counterparts. The female cobalt blue tarantulas live up to 20 to 25 years of age, while the male ones live up to 10 years of age. That is how long do tarantulas live.
But these lifespans are when they are in captivity; they live up to 30 to 20 years respectively in the wild. And the number one reason for that is that in the wild, they live in moist, humid conditions, whereas in captivity, they die of dehydration.
The number one health concern for blue tarantulas is lack of hydration. And another major health concern for them is a bacterial infestation when their enclosure is not cleaned properly.
Behavior
Generally, these cobalt blue tarantulas are pretty calm and docile, but they are aggressive to humans being "touchy" with them. They mostly prefer staying inside their burrows and only come out to hunt for food.
Blue tarantulas won't hesitate to attack if they feel threatened at any point. Along with their venom injection, they have a very powerful bite that also injects venom into its victims.
Molting
When they are shedding their skin or rather molting, they would stop eating, so don't be alarmed when that happens. During this stage, they will lay upside down as if they are playing dead.
It takes about 15 minutes for them to shred their exoskeleton. Do not bother or touch the tarantula during this time.
Mating Habits
The mating process of these blue spiders is rather dangerous and life-threatening. You have to see it to experience it fully.
How To Keep Them Safe?
Before you go out and buy a cobalt blue tarantula for yourself, you have to understand and learn about the animal properly. Then when you think you are ready, contact a breeder to buy from, and don't catch one from the wild.
You need to understand that, unlike other tamer tarantulas, these ones are not to be handled with. You cannot simply carry them on your shoulder and roam around.
Legality
In general, there are no laws against keeping tarantulas in most states in the United States. Although you might wanna check with your local governing body for any objections from them.
Enclosure
You need to have a hard glass enclosure for these cobalt blue tarantulas. And the number one rule before buying an enclosure for spiders is that the width should be 3 times its legs.
The average leg length for tarantulas is 5 inches. So that means that the enclosure has to be at least 5 gallons deep. Add some space for the animal to hide under or burrow under.
Are They A Threat To Humans?
Cobalt blue tarantulas are naturally very defensive, but they don't attack until and unless they feel threatened. Although there is no record of cobalt blue tarantulas killing any humans or severely injuring one.
Frequently Asked Questions (FAQs)!
Now that you know everything about Cobalt Blue Tarantulas, if you have any other further questions, here are what others asked.
1. Can You Handle A Cobalt Blue Tarantula? 
Ans: Cobalt blue tarantulas are old world tarantula species. Hence their venom is quite potent and effective in giving muscle spasms. They are quite swift and quick in the wild. So it is recommended that only highly professional entomologists or hobbyists only handle this species of tarantulas. 
2. Can You Hold A Blue Tarantula?
Ans: It has been seen that most tarantulas don't like to be held; hence cobalt blue tarantula is no exception here. It is better that you leave it alone and not try to hold it, as a sense of contact can make them defensive. 
3. Are Blue Tarantulas Rare? 
Ans: The Cobalt Blue Tarantula is one of the rarest of the 800 tarantula species there is. And being the rarest, these tarantulas are very beautiful to look at for their striking cobalt blue color. 
Wrapping Up!
If you are interested in getting a pet that you can't hold ever. And also known for being one of the most aggressive tarantulas in the world, then good for you. You just have to admire its beauty and study from a safe distance.
Cobalt Blue tarantulas are only considered popular and rare pets among professional entomologists and hobbyists, absolutely not for beginners.
Read Also: