There are a lot of different types or colors of cats out there, but maybe it's me, or there is something about an orange cat that is just beautiful. Maybe it's just the Garfield effect, but I really do find orange cats irresistible and gorgeous.
But the difficulty beings when we have to name that cat, and our mind tries to think of something very creative and difficult at the same time. But if you are having trouble coming up with orange cat names, then I am here to help you out with that.
It is highly possible that our obsession with the orange cat came from none other than the lasagna-loving, lazy cat, Garfield. Jim Davis's comic strip is what made us fall in love with this orange cat, which is why Garfield is a very popular name as well.
Now if you wanna know a few more names of orange cats, then you need to keep on scrolling through the article and graze through all the categories.
1. The Best Orange Cat Names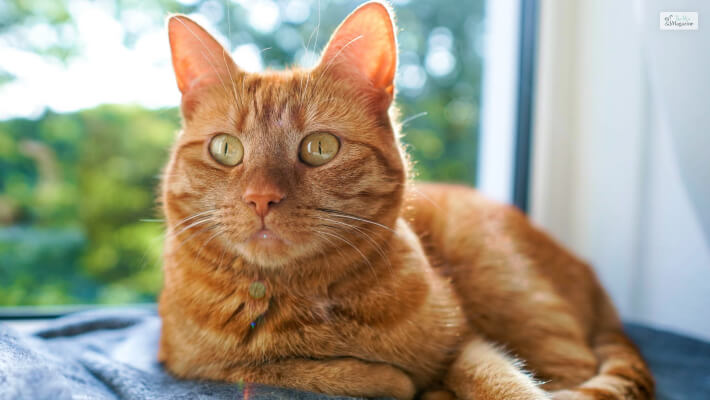 Red
Ginger
Juice
Jonesy
Mango
Leo
Pumpkin
Cider
Figaro
Cheddar
2. Female Names For Orange Cats
Lucy
Mimosa
Marigold
Peaches
Pippi
Ariel
Sansa
Elizabeth
Clementine
Annie
3. Orange Cat Names Male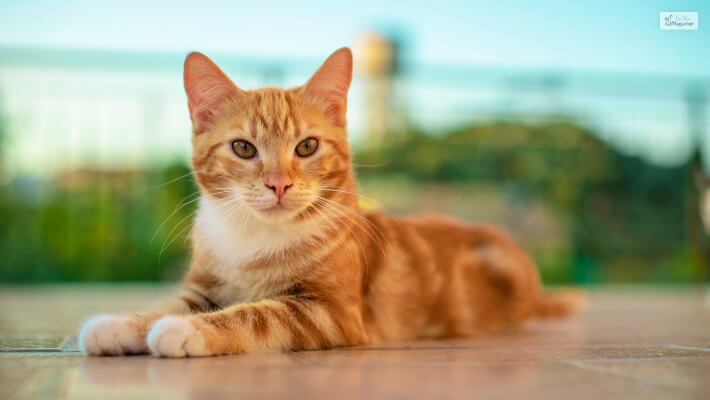 Rusty
Milo
Morris
Ron
Conan
Nemo
Mars
Garfield
Heathcliff
Hobbes
4. Hawaiian Names For Orange Cats
Pineki (peanut)
Meli (honey)
Alani (another name for the fruit orange)
Kaipo (sweetheart)
Kelani (from heaven)
Keanu (the breeze)
Inoki (devoted)
Akamai (intelligent)
Hoku (star)
Nani (beautiful)
5. Food-Inspired Orange Cay Names
Marmalade
Cheeto
Sunkist
Russet
Yam Dorito
Sweet potato
Fanta
Carmello
Mimosa
Frito
Tang
Maple
Butternut
Amaretto
Creamsicle
Squash
Nacho
Orangina
Carrot
Sorbet
6. Spicy Inspired Names For Orange Cats
Cayenne
Nutmeg
Tabasco
Cinnamon
Cumin
Saffron
Mustard
Pumpkin spice
Paprika
Ginger
Turmeric
Clove
Pepper
Chili
7. Cartoon-Inspired Names For Orange Cats
Garfield
Strawberry shortcake
Shere Khan
Toulouse
Tigger
Heathcliff
Mr. Jinks
Riff Raff
Hobbes
Azreal
Simba
8. Orange Cat Names Inspired By Movies
Crookshanks (Harry Potter)
Orion (Men In Black )
Ulysses (Inside Llewyn Davis)
Bob (A Street Car Named Bob)
Thomasina (The Three Lives of Thomasina)
Puss in Boots (Shrek 2)
Goose (Captain Marvel)
Milo (Milo and Otis)
Jonesy (Alien)
Fred (Gifted)
Tonto (Harry and Tonto)
Cat (Breakfast at Tiffany's)
Calwhauser (Zootopia)
9. Badass Orange Cat Names
Prince Harry
Kim Possible
Reba
Loki
Carmen Sandiego
Pepper Potts
Poison Ivy
Archie
Axl Rose
Conan
Heinz
Princess Fiona
Mack
10. Disney-Inspired Orange Cat Names
Hercules
Wendy (Gravity Falls)
Ellie (Up)
Ariel (The Little Mermaid)
Merida (Brave)
Peter Pan
Jessie (Toy Story)
Giselle (Enchanted)
Phineas (Phineas and Ferb)
Anna (Frozen)
11. Fruit-Inspired Orange Cat Names
Apricot
Persimmon
Mango
Mandarin
Tangerine
Cantaloupe
Papaya
Valencia
Tomato
Satsuma
Kumquat
Clementine
Citrus
Melon
Peaches
Tangelo
12. Orange Cat Names With Attitude
Tornado
Tori Amos
Sahara
Johnny Rotten
Sansa Stark
Black Widow
Magenta
Kathy Griffin
Jane Grey
13. Halloween-Inspired Orange Cat Names
Pumpkin
Winnifred
Boo
Poe (as in Edgar Allen)
Gremlin
Buffy (as in The Vampire Slayer)
Fang
Tarot
October
Salem
Lucifer
14. Irish Inspired Orange Cat Names
Flannery
Ronan
Declan
Fergus
Liam
Cashel
Finley
Patrick
Rory
Brogan
Lia
Riley
Orla
Sheena
Fionn
Finn
Gallagher
Aiden
15. Book-Inspired Orange Cat Names
Anne (Anne of Green Gables)
Ms. Fizzle (Magic Schoolbus)
Jamie Fraser (Outlander)
Glinda (The Wizard of Oz)
Ron Weasley (Harry Potter)
Fancy Nancy
Pippi Longstocking
Tintin (The Adventures of Tintin)
Aslan (The Lion, the Witch, and the Wardrobe)
Madeline
Wrapping Up!
Well, there you go, here, I have presented you with 15 different categories of orange cat names from which you can choose.
When it comes to choosing the name of an orange cat, we tend to get a lot more creative, and that is what makes the whole naming process even more difficult.
But nonetheless, the names that we have selected here for you are all great for orange cat names. So if you think that this article was helpful, then give it a like and comment down below.
Read Also: